People & Culture of Ukraine
33A, Dehtiarivska Str.,
7th floor,
03057, Kiev (Kyiv), Ukraine.
Ukrainian People, Culture and Religion
Population of Ukraine
The population of Ukraine is 44,1 mln people. Ukraine is the 5th in Europe (after Germany, Italy, Great Britain, France) and the 21st in the World. Ukrainian population sets 7,3% of population of Europe and 0,8% of the World population. 68% of Ukrainians live in cities and 32% - in rural areas. Eastern Ukraine is much more urbanized than the west.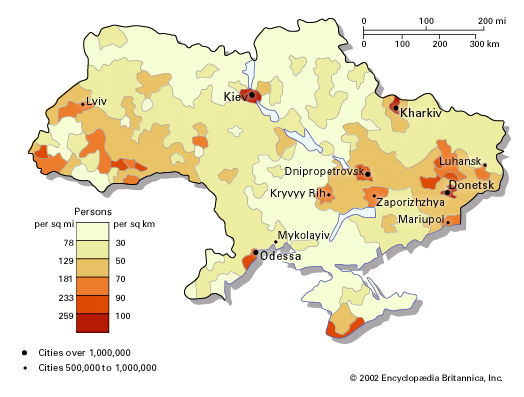 The average density of population of Ukraine is 85 people per square kilometer. As per this indicator, Ukraine yields to many European countries. The density is not similar all over Ukraine. The most habitable is Donetsk's region - 196 people per sq km. The less one – Chernigov (in Ukrainian - "Chernihiv") region – people per sq km.
Ukrainians are the largest nationality living in Ukraine, constituting 73% of the population. Russians make up another 21%, and they live primarily in cities and in Eastern Ukraine. The remaining 6% is divided between Jews, Belorussians, Moldavians, Bulgarians, and Poles.
The official language in Ukraine is Ukrainian although Russian is still the most widespread; other languages spoken in Ukraine are Romanian, Polish, and Hungarian. About 88% of the population consider Ukrainian their language. Many speak Russian as a first or second language, especially in Eastern Ukraine and Crimea. While many people in Ukraine have Russian as their first language, most people are bilingual in Ukrainian and Russian, and will switch languages depending on who they are speaking to.
Ukrainian language took the second place on melodic criteria after Italian and it was ranked as the third most beautiful language in the world on such criteria as phonetics, vocabulary, phraseology and sentence structure after French and Persian at a linguistic contest held in Paris in 1934.
Education in Ukraine
Higher education in Ukraine has centuries-old history, national traditions and high prestige in the world. One of Ukraine's better known Universities is the National University of Kiev-Mohyla Academy, which is closely associated with the historical site called the Kiev Mohyla Academy found in Kiev, Ukraine. The Kiev Mohyla Academy was established in 1615, and was one of the most recognized schools in the Eastern Europe.
The system of higher education in Ukraine has flexible structure, corresponds to modern trends and tendencies to those in advanced countries recognized by UNESCO, UN Organization and many other international organization. Ukraine entered the international Bologna process ("The agreement of the Association of European Universities" of 1999) in 2005 to adapt to the European Educational system.
Every year almost 200 thousand Ukrainians and citizens of other countries become students of higher educational institutions in Ukraine.

The system of education provides good quality and is well developed. One of the most important tasks for central and local authorities is to give equal possibilities in getting top quality education for all citizens of Ukraine. All schools and universities in Ukraine require at a minimum one other foreign language (basically - English), and often two foreign languages are studied for 5+ years.
According to the United Nations Development Programme Report 2009, 99.7% of adults can read and write in Ukraine. Slovenia, Belarus, and Lithuania have the same level of literacy among European countries. As to Great Britain, France, Germany, and US the level of literacy is just under 99% there. The situation is worse in China – 95.9% and in India – 74.04%.
Ukrainian Traditions
Before Ukraine adopted Christianity in 988, the inhabitants believed in pagan gods who ruled over the sun, stars, and moon. Folk beliefs are still connected to the sun, stars, and moon, as well as to dreams, the seasons, and agriculture. In fact, many of the pagan customs blended, over time, with Christian beliefs. These centered on the family (e.g., birth, marriage, and funeral customs), the community, and seasonal agricultural rites.
The fundamental basis for the whole Ukrainian culture is folk culture and, on its ground, professional art, literature and science was gradually developed. Songs and folk tales play a significant role in these ancient customs. There are specific songs for harvest festivals, New Year's celebrations, and Christmas and Easter, all celebrating both pagan beliefs and Christian traditions. Songs and music have always been important to the Ukrainians.
Examples of ancient customs still practiced today include the spring rites and songs (vesnianky) and the traditions associated with the harvest or Kupalo festival in which young maidens make wreaths of wildflowers, and set them afloat in a nearby stream; their fortune is determined by the young man who retrieves the wreath while facing the spirits of the night. Often these are still practiced by Ukrainian youth at cultural festivals.
Religion in Ukraine
Freedom of religion is guaranteed by the Constitution of Ukraine, although religious organizations are required to register with local authorities and with the central government. There is no formal state religion.
The most powerful churches in Ukraine are the Orthodox Church of Ukraine (14,9%) and the Ukrainian Orthodox Church of Moskow Patriarchate (10,9%). They possess the most of parishes, religious organizations and educational institutions. The amount of supporters of the Ukrainian Autocephalous Orthodox Church is not as large (1%). Ukrainian Greek Catholic Church (5,3%) and Ukrainian Roman Catholic Church (0,6%) have big influence in the western parts of Ukraine.
There are also Judaists (0,1%), Muslims (0,2%) and representatives of other confessions in Ukraine.
According to the same 2006 Razumkov Centre survey, 62.5% of population stated they were not religious, or didn't belong to any particular religious denomination.
In other side, formaly 77% of population are Cristians (infant baptism is a Ukrainian tradition).
Religion in Eastern Ukraine
In the occupied Eastern Ukraine (Donbass) there are many Orthodox churches, but they are all of the Moscow Patriarchate. Any other religion is prohibited by pro-Russian terrorists. In the Russian churches tirelessly promoted and tell the same things as on Russian television that in Ukraine is a civil war about the Nazis and Right Sectors.
Ukrainian Christians, Muslims and Jewish people in Donbass and Crimea have met with "orthodox extremism". Fueled by FSB and the leadership of Russian orthodox church, patriarch Kirill in particular, it forces many believers to face experience similar to that of early Christians in pagan Rome.
"Russian Orthodox Army" and orthodox "kazachestvo" is fighting against Ukrainian citizens in the East of Ukraine, pseudo-republic DNR has adopted orthodoxy as its official religion and is forcing out the others. The attempts to instigate hatred between representatives of different religions or confessions led to the opposite effect. Muslims are inviting Christians to their mosques, parishioners of Moscow and Kiev patriarchates are uniting.
See more: "Orthodox Extrimism". Russia's religious wars in Ukraine
Public Holidays in Ukraine
New Year's Day - January 1. In addition to the traditional celebrations the Old New Year's Day, a folk symbol of tradition and originality, is marked on January 14.
Ortodox Christmas Day - January 7
International Women's Day - March 8
Velykden' (Ortodox Easter) - movable: May 2, 2021; April 24, 2022; April 16, 2023; May 5, 2024
Labor Day - May 1
Victory Day - May 9
Svyata Triytsia (Holy Trinity Day) - movable: June 20, 2021; June 12, 2022; June 4, 2023; June 23, 2024
Constitution Day - June 28
Independence Day - August 24
Christmas - December 25
Except Ortodox Easter and Svyata Triytsia, which mobility is linked to the religious tradition, all the above holidays are celebrated on a fixed day. Ortodox Christmas Day and Velykden' (Ortodox Easter) are celebrated in accord to the Orthodox Old Calendar.
Important notice: In Ukraine, if a holiday falls on a weekend, there will be a day off on the following Monday.
You can find more interesting information and facts about Ukraine on the following pages: